Hortobágyi husos palacsinta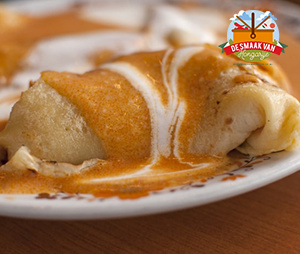 Ingredients
Oil
2 onions
500g chicken meat (thigh or breast fillet)
1 tbsp. Paprika powder
3 dl. Creme fraiche
20g flour
2 tbsp. Paprika cream
1 (green) paprika
1 tomato
Salt and pepper
(for variation: in stead of salt use 1 Maggi tyukhusleves chicken soup cube)
For pancakes
2 eggs
160g flour
2 dl. milk
100 ml. of carbonated water
Pinch of salt
Oil
Preparation method
Peel and chop the onions. Cut the chicken into fine cubes. Heat oil and fry the onion until golden brown in a large pan. Add the chicken and roast for a few minutes. Sprinkle with paprika, salt and pepper. Add 2 tbsp. paprika cream and a splash of water. Then bring it to a boil. Wash paprika and tomato and cut into cubes. Add to the meat and simmer covered for approx. 40 minutes.
(for variation: For extra flavor, instead of salt, add 1 Maggi tyukhusleves chicken soup cube. Stir until dissolved.)
In the meantime, bake 10 pancakes and cover them. Thicken the crème fraîche with 20 g flour. Remove the meat from the pan and set aside. Mix the crème fraîche with the remaining pepper sauce while stirring. Generously coat each pancake with this mixture. Now divide the meat over the pancakes and roll or fold them shut.
Divide the stuffed pancakes in an ovenproof dish and pour over the remaining paprika sauce. After 10-15 min. Heating in the oven (do not let it bake) you have delicious Hortobágyi husos palacsinta. Garnish with paprika pieces and serve with a scoop of crème fraîche next to it.
Enjoy your meal / jó étvágyat!
Preparation time: ± 1.15 hours
Below you will find the products used in this dish: