Real Hungarian chicken goulash!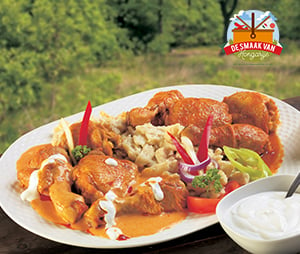 Ingredients
1 kg of chicken (chicken legs)
2 onions
1 tbsp. Paprika powder
Oil
1 / 2 paprikas
2 tomatoes
2 tbsp. Goulash cream mild or spicy
1 tbsp. Paprika cream mild of spicy
Pepper and salt
Creme fraiche
Preparation method
Peel and chop the onion. Heat oil in a large pan. Fry the onion until golden brown in oil. Remove the pan from the heat and sprinkle with Paprika powder. Place the chicken in the pan and roast for a few minutes.
Season with salt and pepper. Add Goulash cream and Paprika cream and ± 2 dl of water.
Cut the paprikas and tomatoes into cubes / strips and add them after a while. Let it simmer covered for an hour. Stir in the crème fraiche at the end. Csirkepörkölt is delicious with homemade Galuska.
Enjoy your meal / jó étvágyat!
Preparation time: ± 1 uur
Below you will find the products used in this dish: