Layered potatoes - Rakott krumpli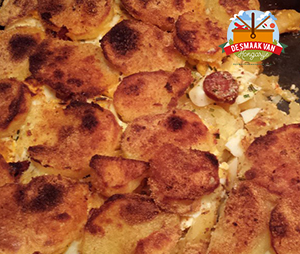 Ingredients (4 pers.)
Butter
1.2 kg of potatoes
6-8 boiled eggs
1 whole Gyulai kolbász
Breadcrumbs or grated cheese
1 tbsp. Hungarian spice mix
3 dl crème fraiche
Salt and pepper
Preparation method
Boil the peeled potatoes in plenty of water with a pinch of salt. Also boil the eggs until they are boiled hard. Peel and slice the potatoes and eggs. Cut the kolbász into slices and grease a large baking dish with butter. Preheat the oven to 180°C.
Now stack the potatoes, egg slices and pieces of kolbász layer by layer on top of each other. First cover the bottom with a layer of potato and place the egg and kolbász on top. In between, sprinkle with Hungarian spice mix, pepper and salt and some crème fraîche. Repeat this until the baking dish is filled. The topping consists of a layer of potatoes. Sprinkle with breadcrumbs or grated cheese. Place the baking dish 35-45 minutes in the oven at 180°C until the top is crispy and golden brown. Serve with crème fraîche and a fresh salad.
Enjoy your meal / jó étvágyat!
Preparation time: ± 60-75 min.
Below you will find the products used in this dish: