Beef goulash – Marhapörkölt
Beef goulash – Marhapörkölt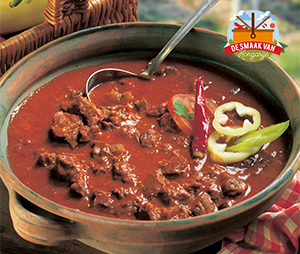 By following the description you will prepare a delicious filled Goulash dish. Making a goulash takes some time, but waiting will be richly rewarded. Make the most of goulash with a glass of wine.
Ingredients (4 pers.)
1 kg of beef rags
3 tbsp. oil
3 onions
2 red or green paprikas
4 tomatoes
1 tbsp. Paprika cream mild or spicy
2 tbsp. Goulash cream mild or spicy
1 tsp. Garlic cream
1 tbsp. Caraway seeds
1 tbsp. Paprika powder
Pepper and salt
1 tsp. Spicy pepper sauce
Preparation method
Cut the meat into cubes of ± 2 cm., the paprika and tomatoes into small pieces. Peel the onion and cut it into half rings. Heat the oil and fry the onion until golden brown. Sprinkle with paprika powder and add the paprika cream and goulash cream. Add the meat to the pan, sprinkle with caraway seeds, pepper and salt and stir in the garlic cream. Roast the meat while stirring until it is seared on all sides. After this, stir the sliced paprika and tomato into the whole and add water until it is just not submerged.
Bring it to the boil, once the whole boils, turn the heat to a low setting and let it simmer for ± 2 hours. In contrast to the goulash soup, it is intended that the whole will have a firm structure. If moisture evaporates over time (check regularly), therefore always add a minimum amount of water. After 2 hours you stir the Spicy pepper sauce through the goulash. After about 2.5 hours you have prepared a rich goulash dish in this way that you will undoubtedly enjoy. You can eat the goulash with bread, galuska or tarhonya. Stir crème fraiche through the goulash at taste.
Enjoy your meal / jó étvágyat!
Preparation time: ± 2.5 hours
Below you will find the products used in this dish: