Palóc soup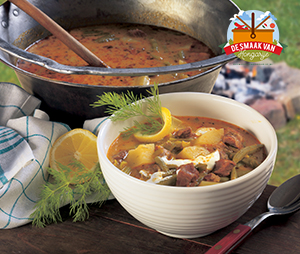 Ingredients
600g lam shoulder patch
4 tbsp. oil
2 onions
1 tbsp. Paprikacream
200g green beans
1 tbsp. Paprika powder
1 tsp. ground caraway seeds
1 l. broth
1 bay leaf
3 potatoes
1 tsp. Garlic cream
Salt and pepper
2 dl. creme fraiche
Parsley
Preparation method
Cut the shoulder pads into blocks of 1.5 cm. Peel and chop the onions. Heat oil in a soup pan and fry the onions until golden brown. Sprinkle this with Paprika powder and add the cubes of meat. Season the meat with salt and pepper. Stir in the Paprika and Garlic cream. Roast it while stirring for a few minutes. Pour in 2 dl of water and simmer the meat on a low heat until medium-soft (in about 20 minutes).
Meanwhile, cut the green beans into cubes of approximately 2 cm and cook them separately. Peel and dice the potatoes. Once the meat is semi-soft, carefully pour 1 liter of broth into the pan. Sprinkle with caraway seeds. Enrich it with green beans, diced potatoes and the bay leaf. Cook on a medium heat for half an hour. After more than 1 hour the soup is almost ready. Stir in the crème fraîche at this time.
Sprinkle with parsley and serve the palóc leves hot for the best taste experience. Add spicy pepper sauce if desired.
Enjoy your meal / jó étvágyat!
Preparation time: ± 60 minutes
Below you will find the products used in this dish: