Lecsó with kolbász
Lecsó with kolbász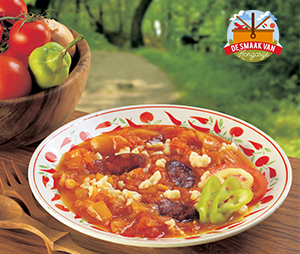 Ingredients (voor 5 personen):
500g of tomatoes
2 onions
4 tbsp. oil
150g bacon (optional)
1 tbsp. Paprika powder
2 tbsp. Paprika cream mild or spicy
1 kg of meaty paprikas
1 tsp. Mild or Spicy pepper sauce
250g kolbász, sliced
Preparation method
To prepare the lecsó, wash and slice the tomatoes and the paprikas into rings or thin strips (remove the seeds first). Put oil in a large pan or bogrács. Peel the onions and cut into half rings. Once the oil has heated up, fry the onion (with the bacon) on a high heat until it looks glassy. Remove the pan from the heat and sprinkle the onions with paprika powder. Also add the Paprika cream. After this, put the paprika rings in the pan and sprinkle with salt and pepper to taste. Cook briefly on medium heat. Then let it simmer covered for ± 15 minutes.
Then add the tomatoes to the whole and cut the kolbász into slices. Simmer covered for 15 minutes on low heat, stirring occasionally. Due to the moisture of the tomatoes a strong sauce is created. Add the kolbász slices in the last 10 minutes. The lecsó is ideal if the paprika is semi-soft (don't let it become too soft). At the end, stir the mild or pepper sauce through the lecsó and eat it with Tarhonya, rice or bread.
Enjoy your meal / jó étvágyat!
Preparation time: ± 50 minuten
Below you will find the products used in this dish: