Delicious chicken with paprika dish!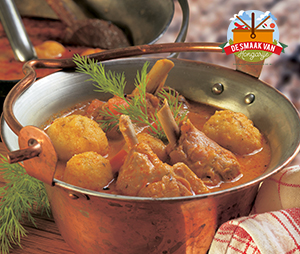 Paprika chicken (paprikás csirke) is a classic in Hungarian cuisine and especially a true "Hungaricum". A Hungaricum is a typical Hungarian product or dish such as kolbász, goulash, pálinka and for example the paprika powder. What makes Paprika chicken special are the main ingredients that are characteristic of Hungarian cuisine, namely: paprika powder, onion, paprika, tomato, pepper and garlic. The Paprika chicken is traditionally eaten with galuska (homemade dumplings). This summer dish is easy to prepare and will taste surprisingly good! Even in all seasons.
Ingredients (4 pers.)
3 tbsp. oil
1 kg chicken fillet
1 large onion
2 green paprikas
3 tomatoes
1 tbsp. paprika powder
Salt and pepper
1 tbsp. Paprika cream mild or spicy
1 tsp. Garlic cream or 1 clove of garlic
To taste: Spicy pepper sauce
1 jar of sour cream
Preparation method
Cut the chicken fillet into smaller pieces and chop the peeled onion. Remove the inside of the pepper and dice it as well as the tomatoes into cubes. Heat the oil in a large (soup) pan. Fry the chopped onion for a few minutes until it looks golden. Sprinkle the paprika over this and add the meat to the pan. Season with the bell pepper, garlic cream, salt and pepper and stir for a few minutes. Add 3 dl of water. Fresh chicken fillet already contains water that is eventually released during the cooking process.
Put the lid on the pan and let it simmer slowly. Add the sliced vegetables after half an hour. Stir regularly. The whole thing takes about an hour to become nice and tender. After this you have a delicious Paprika chicken prepared with delicious juicy meat. At this point, stir the sour cream through the dish. Add some spicy pepper sauce to your own taste. Serve this with Galuska or pasta.
Enjoy your meal / jó étvágyat!
Preparation time: ± 1 hour
Below you will find the products used in this dish: