Lebbencsleves soup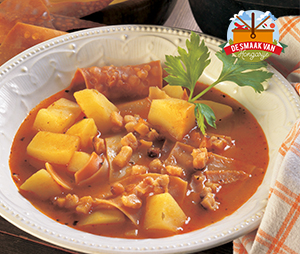 Ingredients
3 tbsp. oil
1 onion
100g Lebbencs
1 tbsp. Paprika cream mild or spicy
100g bacon
300g of potatoes
2 tbsp. Pusta sauce
salt and pepper
1 half parsnip
1 paprika
1 tomato
1 tbsp. Paprika powder
Bunch of parsley
Preparation method
Peel and chop the onion. Peel and dice the potatoes. Fry the Lebbencs with 2 tbsp. oil in a pan. Set this aside. Fry the bacon in 1 tbsp. oil. Add the chopped onion. Sprinkle with Paprika powder as soon as the onion turns golden brown. Add the pieces of dough and roast briefly. Season with Paprika cream, Pusta sauce and freshly ground pepper. Pour in with 1.5 l. water and bring to a boil. Add the potato cubes to the soup as soon as the water boils.
Wash and seed the paprika. Cut the paprika, tomato and parsnip into small cubes. Add the vegetables to the soup after 5 minutes of cooking. Let the lebbencsleves simmer for ± 30 minutes, covered. Meanwhile, finely chop the parsley. Sprinkle the soup with parsley and season with salt and Spicy pepper sauce.
Enjoy your meal / jó étvágyat!
Preparation time: ± 45 minutes
Below you will find the products used in this dish: