Sheep goulash - Birkapörkölt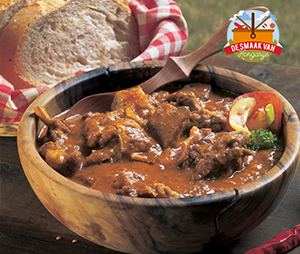 Ingredients
Oil
1 kg of sheep meat (sheep rib)
2 onions
1 tbsp. Paprika powder
2 paprikas
2 tomatoes
1 tbsp. Paprika cream mild or spicy
2 tbsp. Pusta sauce or Goulash cream mild or spicy
1 tbsp. Ground caraway seed
2 tsp. Garlic cream
1.5 dl of red wine
Salt and pepper
Preparation method
Cut the meat into cubes of ± 2 cm. Peel and chop the onions. Heat oil in a large casserole and fry the onions until golden brown. Remove the pan from the heat and sprinkle the onion with paprika and caraway seeds. Divide the meat over the pan and sprinkle with salt and pepper. Roast briefly on high heat until the meat turns white. Stir in the Paprika cream, Pusta sauce(or Goulash cream) and Garlic cream. Add 2 dl of water and bring to the boil. Then let it simmer stew on low heat.
Wash the tomato and paprikas and remove the seeds from the paprika. Cut it into cubes and add it to the pörkölt. Add a dash of dry red wine and let it simmer until the meat is soft. Only add small amounts of water when moisture is evaporated. In this way the birkapörkölt retains its sturdy structure. Serve with tarhonya, Galuska or potatoes. You can also use lamb meat and prepare a delicious Lamb goulash - báránypörkölt in the same way.
Enjoy your meal / jó étvágyat!
Preparation time: ± 2 hours
Below you will find the products used in this dish: