Hungarian pepper stew - Borsos Tokány
Pepper pork ragout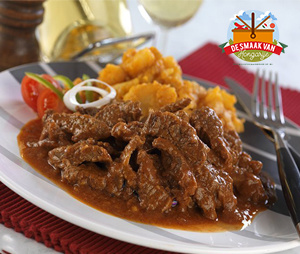 Ingredients (4 pers.)
600 g low fat beef
1 large onion
150 g smoked bacon
2 tbsp. oil
1 tomato
2 tsp. Garlic cream
1 tsp. Marjoram
Freshly ground black pepper
2 tsp. salt
1 dl of white wine  
Preparation method
Borsos tokány is the Hungarian pepper stew. For this, cut the meat into strips and the smoked bacon into cubes. Peel and chop the onion. Roast the strips of bacon in a dash of oil until crispy and remove from the pan. Fry the onion in the remaining fat until golden brown. Apply the strips of meat and let it close while stirring. Season the meat with salt, marjoram and a generous amount of freshly ground pepper. Deglaze with the white wine and let it simmer briefly.
Wash the tomato and cut into cubes. Add this together with garlic cream and the bacon cubes to the pepper stew. Add a splash of water and continue simmering over low heat. The borsos tokány is ready as soon as the sauce has a firm brown and strong taste.
Borsos tokány is delicious with galuska, tarhonya and rice. In Hungary there are countless variations on the borsos tokány, be especially creative with other additions and ingredients!
Enjoy your meal / jó étvágyat !
Preparation time: ± 60 min.
Below you will find the products used in this dish: