Madártej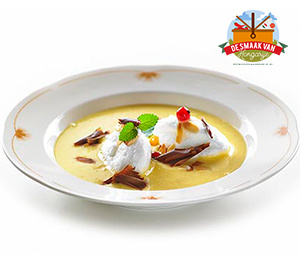 Ingredients
1 liter of milk
6 egg yolks
2 egg whites
100g butter
80g brown sugar
2 tbsp. sugar
1 vanilla pod
Pinch of salt
Preparation method
Heat milk in a pan and add the scraped vanilla. Let it boil for a while and then remove from the heat. Mix the egg yolks with brown sugar and a pinch of salt, then stir into the still warm, but not hot milk. Transfer to a metal bowl.
Bring water to a boil in a pan that fits the metal bowl on top. Keep stirring the egg milk constantly while the water below is just barely boiling. Stir until the madártej thickens slightly and then let it cool.
Beat the egg whites with the sugar to a firm foam. Make small balls with a spoon and divide them on a plate. Place in the microwave on medium heat for 1 minute.
Serve the madártej with the meringues on top and sprinkle with toasted almonds or chocolate flakes.
Enjoy your meal / jó étvágyat !