Delicious fish soup for everyone!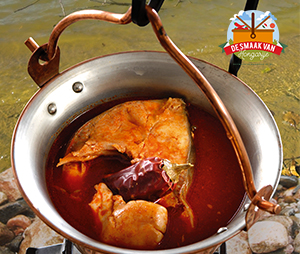 Ingredients
Oil
1.5 kg of fish
2 onions
1 tbsp. Fish soup spice mix
1 tbsp. Paprika powder
1 red paprika
2 tomatoes
1 tbsp. Sweet pepper cream
Salt
Preparation method
Preferably use a whole carp. You can also use several types of fish in 1 soup (catfish, zander, etc.). Clean the fish and remove the scales and bones. Cut off the tail, head and fins. Cut the rest into smaller pieces, sprinkle with salt and set them chilled aside. Peel and chop the onion. Heat oil in a large pan or special bogrács for halászlé. Fry the onion briefly. Traditionally, the fins, tail and head are added to the onion with Paprika powder and water. The whole must be just under water. Let it simmer for about 30 minutes.
Wash and cut the red paprika and tomatoes into pieces. Place this with the salted slices in the pan. Add the Spice Mix and Paprika Cream and let it cook for another 45 minutes on low heat.
Move the pan / bogrács in a circular motion instead of stirring. In this way the fish retains its structure.
The soup is ready as soon as the fish is soft and cooked.

Put the slices on a plate with a spatula and pour the liquid over it.
Garnish the halászlé with paprika rings and serve with crème fraîche.

Enjoy your meal / Jó étvágyat!

Preparation time: ± 1.5 hours

Below you will find the products used in this dish: